Are you planning a retreat, conference or live event?
Do you want to have an activity that is interactive, high energy and helps to connect and engage your participants?
Your people are investing their time and money to have an experience that is invigorating, inspiring, and memorable. Give them this experience with a group drumming program.
Path To Rhythm Group Drumming Programs offer the perfect solution to having a remarkable activity at a Conference, Retreat, or Live Event.
"Adam and Path To Rhythm lead a group drumming program at my Power Boost Live Event. Every one had so much fun! People who had never drummed before were drumming and releasing their inhibitions. Adam had a wonderful way of integrating the key messages of the conference into the drumming program that was powerful for the participants. From our experience, every one's spirits were high, they were laughing, and it sent people leaving with a great feeling. Mission accomplished!"

– Pamela Slim
Speaker, Coach and Author of Escape from Cubicle Nation
What We Do
Drumming together is a fun, easy and exciting way to engage and connect people. Path To Rhythm will bring drums for all of your participants to use. We facilitate a program that includes a light instructional piece. We then enable participants to play together, creating a group rhythm that captures the energy and spirit of the event. Long after the program is over, participants will remember the excitement of the drumming and will associate this feeling with your event.
The benefits to the participants:
Connection to each other.
A strong sense of belonging to a whole. They will be playing as ONE.
Free of inhibition.
Happy, relaxed, and stress free.
Drumming is a low impact, yet physical, activity. After drumming, participants will feel inspired, confident, and empowered.
FUN!
The benefits to the event planner:
Your event will be remarkable.
IMPACT! Participants will remember the excitement of the drumming and carry this memory when they recall YOUR event.
Be seen as someone who is willing to incorporate extraordinary programs.
"I recently experienced a Path To Rhythm drumming circle, which was incorporated into a business event's closing ceremony.  After two days of marketing, business strategy, and networking, I was blown away by the effectiveness of the drumming.  As a seasoned event planner, I know that it is not enough to just deliver a program with great content.  Without emotional and sensory connections, learning and subsequent action will fail to occur.  Adam's drumming program integrated all we've learned through feeling, movement, and rhythm, and left us with a powerful affirming message that we could carry home with us.  It was exciting, invigorating, informative, and FUN.   I highly recommend including Adam in your next event design; no matter what the subject or genre — it is a beautiful, magical, universal experience that will fit any occasion."


– Valerie LaPenta Steiger, Specialized Event Planner
"It was great having your company at our event, the activity was awesome and every one enjoyed it!"


-Sophia Umanski, Chief Experience Architect, MaverickDNA.com
At Path To Rhythm, we have a deep understanding of the importance of delivering a program that is interactive, lively and inclusive of all. We are experienced facilitators and have the ability to adapt our program to meet the needs of your group. You will have peace of mind in knowing that you are working with true professionals.
Meet Adam Issadore, Founder: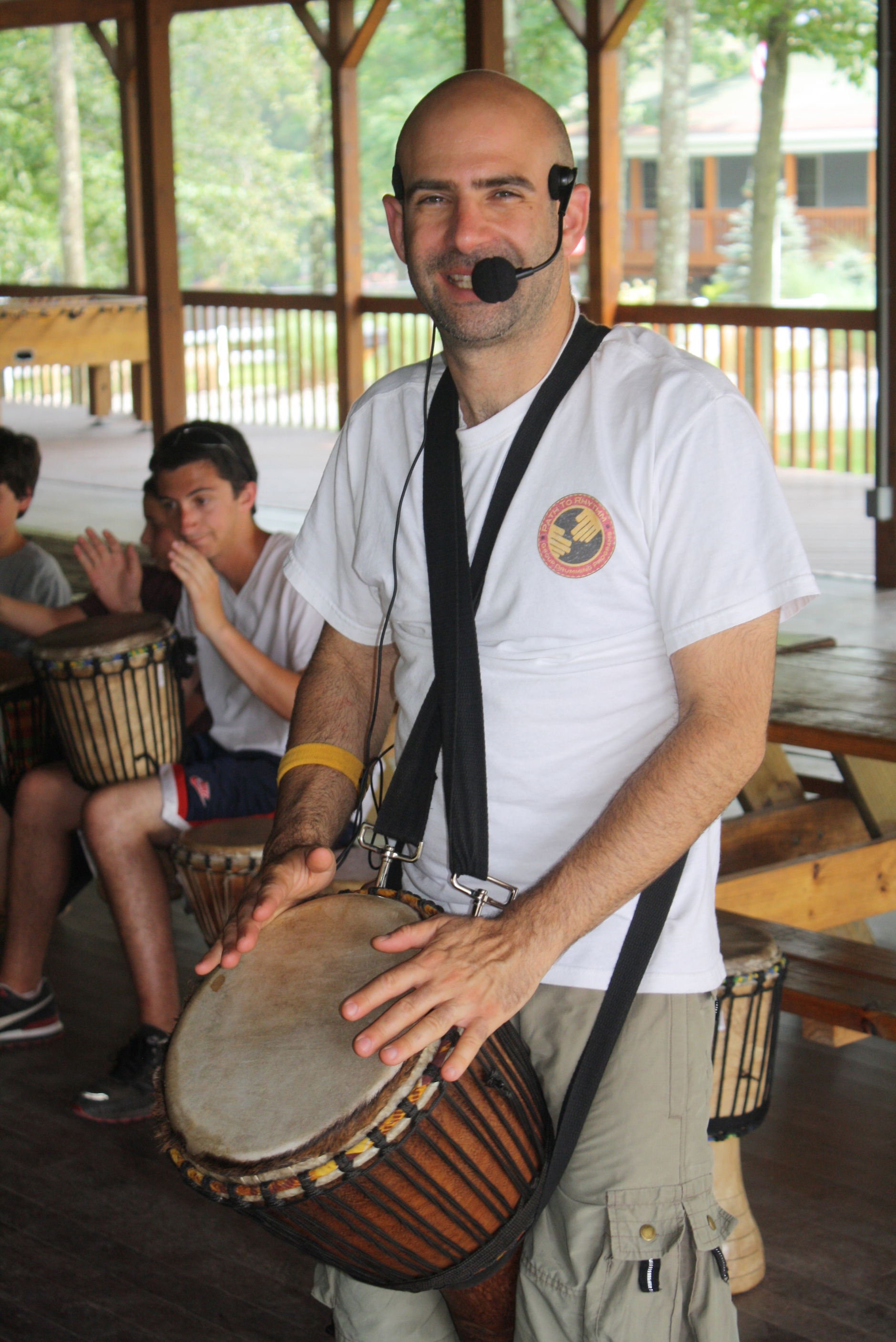 Adam is a professional musician, drummer, educator and facilitator. He has over fifteen years of experience teaching at the Third Street Music School in NYC. As a performer he has toured the U.S. and Europe playing drums with jazz, rock, and hip hop artists. In 2008, Adam founded Path To Rhythm Group Drumming Programs as a way to share his passion for drumming with as many people as possible. Since that time, he has drummed with thousands of people in various settings, and has inspired countless others to discover their unique rhythm. Adam is passionate about leading groups of people, and this can be witnessed in the way he enthralls the participants in his drumming programs. He is a master at creating appropriate programs for each population that he works with, from young children to adults.
Adam lives in New York with his wife, Tara, and their son, Jackson.
Our Programs
Event Kick-off
Path To Rhythm will help you open your event with a bang! We will facilitate ice-breaker activities that will get participants loose and interacting with each other, all while drumming and jamming together. The group will learn a short, easy drumming pattern that will be played in unison to segue into the start of the event. Best for groups under 200 participants.
---
Large Group Energizer Session with Boomwhackers
We will facilitate a remarkable session that will have your attendees creating rhythm together as one group. Using instruments called boomwhackers, we enable and empower large audiences to play together. We arrange for boomwhackers to be shipped to your event location. You have the option of purchasing the boomwhackers for your attendees to keep as a souvenir. It will remind them of the fun and connection that they felt during your event.
This is an ideal way to empower large groups, we have done this for groups of 600 to over 2,700 participants.
---
Closing Ceremony
Path To Rhythm will help close out your event by capturing the energy of participants and helping them to express their experience by drumming together. We will facilitate a group drumming piece that encourages celebration, unity, and connection. This is a perfect way to solidify the learning experience and send participants home feeling grounded and complete.
---
Break-out Session
Path To Rhythm will work with you to incorporate the theme and message of your event into a customized session. We will work with metaphors and analogies that combine your message and apply them to the context of creating rhythm together as a group.
---
Are you ready to bring a remarkable program to your event?
Set up an assessment call now using our convenient scheduler. Click here.
Words from participants:
"Adam's group drumming session was the perfect ending to a conference centered on business community building. He not only organized the set-up and seamless distribution of 50+ drums to participants, his leadership made us all comfortable expressing ourselves through music and dance in a way that was relevant to the content of the event."

– Abe Cajudo, Kickstarter Video Campaign Director

"I can say that, hands down, this was the best closing ceremony I've ever attended. Thank you Adam for a hugely memorable and meaningful experience."


-Debbie Weil
Author of The Corporate Blogging Book, Owner of Voxiemedia.com

"Adam created a fun and safe environment for all of the attendees. Everybody had a great time. If I can look back on a drum circle as a fun event, then anybody can!"

– Tim Grahl, Founder of Out:think

"The group drumming program led by Adam was a success. In fact, being a part of the drumming allowed us all to connect on a deeper level. It was pretty darn amazing."

-Joelle Thompson
Senior Audience Marketing Manager, Microsoft Corporation
Path To Rhythm will help you to create a successful event that will exceed all expectations.
Contact us now!
Set up your free assessment phone call using our online scheduler.
Adam Issadore
phone: 917-596-6542
email: Adam [at] PathToRhythm [dot] com
twitter: @pathtorhythm