Are you looking for an outstanding and unique special event program for your campers?
Do you want your campers to have so much fun that they want to return to camp summer after summer?
Would you enjoy having an easy to do, interactive, and educational music making activity in camp that your campers will love participating in?
Camp directors are feeling the pressure from parents to have music activities in camp. Maybe you have tried to incorporate music into your programming, and it was unsuccessful because you did not have an experienced professional running it. Or, maybe you already have a music program in place, but it needs a serious dose of energy and inspiration.
The answer to having an outstanding music making experience for your camp is simple…
Drumming!

Path To Rhythm Group Drumming Programs offer the perfect solution for having a music activity in camp
. We will bring drums and percussion instruments for all of your participants and enable them to create in the moment music together as a group. Each program includes an introduction to drumming technique, a movement activity, an ice breaker rhythm game, a call & echo activity, a group drum jam, and a beat box demonstration that teaches participants how to express rhythm. Our programs consist of age appropriate activities. We have experience facilitating all age groups, from the youngest campers to the oldest seniors and CIT's. We work with the themes of unity and camp spirit in our programs.
The benefits that campers will receive from this program are:.
Drumming is a low impact, yet physical, activity. After drumming, campers will feel inspired, confident, and empowered.
Our programs create unity among the participants, and the sound of the drums creates an excitement that can be felt all over camp. After drumming together, campers and staff will feel a sense of connection.
Drumming is an organic, fundamental, and intrinsic activity that offers a refresher in a typical camp schedule.
FUN!
The benefits to Camp Directors and Owners
Campers love it and the staff does too. Happy campers translate to higher enrollment and retention rates.
Camp owners will have peace of mind, in knowing that they have an experienced professional like Adam running a program.
Having a music activity fulfills the expectations from parents to have educational activities for their children in camp.
Camp directors are able to leverage all of these benefits and utilize them in their marketing and advertising.
Because we bring all of the drums, you save on the cost of having to purchase your own drums. We save you both the time and money that it would take to hire someone new or train a staff person in-house to run an activity like this.
More and more camps are bringing Path To Rhythm Group Drumming Programs to their campers. Path To Rhythm has worked with some of the most respected camps in the Tri-State area and each summer we drum with over 4000 campers and staff. Just ask other camp directors, and chances are that they have heard about Path To Rhythm.
About Adam Issadore: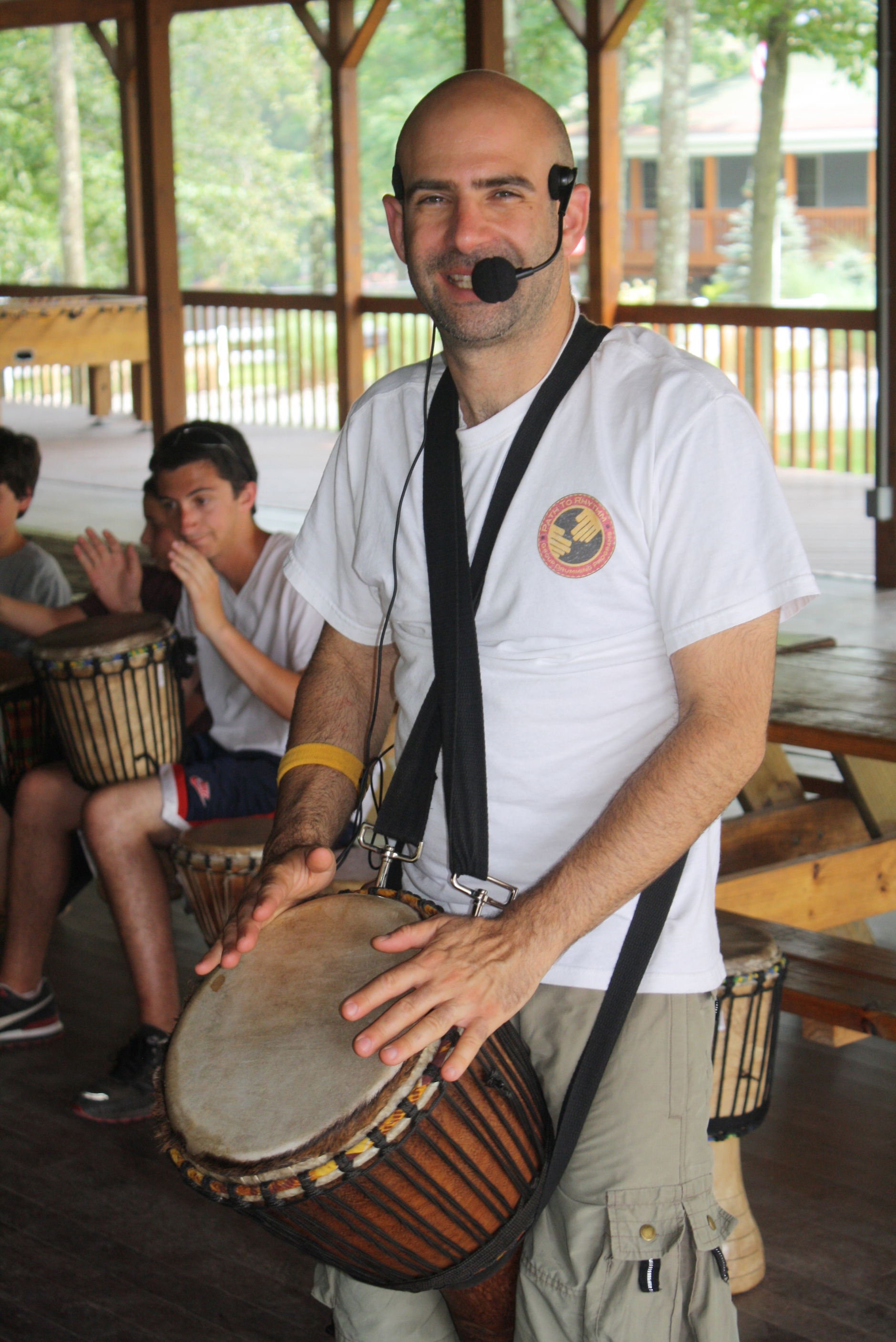 Adam is a professional musician, drummer, educator and facilitator. He has over fifteen years of experience teaching children at the Third Street Music School in NYC. As a performer he has toured the U.S. and Europe playing drums with jazz, rock, and hip hop artists. In 2008, Adam founded Path To Rhythm Group Drumming Programs as a way to share his passion for drumming with as many people as possible. Since that time, he has drummed with over five thousand people and inspired countless numbers to discover drumming.
As a child, Adam spent summers at Camp Akiba, the place where he developed his deep love of summer camp. As a second generation camping professional, Adam maintains his connection to the summer camp community. He has worked at day, resident, and performing arts camps. He has been, and continues to be, a featured performer and speaker at the American Camp Association Tri-State Camp Conference. Adam says, "It is my mission to spread the message of rhythm and drumming, particularly with campers and staff in the summer camp environment. I have learned from my experiences that Camp is the most ideal place to expose people to the power of drumming and the sense of community that is created when participants drum together. That is what Path To Rhythm is all about."
Adam lives in New City, NY with his wife Tara and their son Jackson.
Program Packages for Summer 2018
Drumming Theme Day: Single Day
(for day camps & resident camps)
Bring Path To Rhythm to camp to rock your theme day with a full day of drumming activity. This includes five 45 minute sessions that can be scheduled to accommodate your needs.
---
Everybody Drums: Two Full Days
(for resident camps)
Path To Rhythm will spend two full days at camp. Each day includes six sessions to fit your schedule so that we can work with each division and age group in camp. Add a late night activity drum circle for counselors and staff. This is our most popular package.
---
Afternoon Drum Jam : Half Day
(for camps in the NYC Metro Area)
Get in the groove and drum for an afternoon with Path To Rhythm. Includes two sessions and end of day demonstration performance that showcases the campers.
---
Are you ready to bring an awesome program to your campers?
Set up an assessment call now using our convenient scheduler. Click here.
---
Words from our clients:
"Simply stated, Path to Rhythm is a wonderful program for any camp. Adam's passion for drumming is absolutely contagious! He is a summer camp guy who understands the camp dynamic and environment so incredibly well. His rapport with the campers and staff is outstanding and his ability to tailor workshops based on different age groups was remarkable. We were so happy that we made Path To Rhythm part of our summer programming experience."
-Brian Krug, Director, Camp Canadensis

"Adam and his team from Path to Rhythm are terrific.  The program was phenomenal and very engaging with all the campers of varying ages.  Path to Rhythm is a great way to introduce music to your campers .  Adam has tons of energy and it rubs off on the campers and staff.  Additionally, Adam personally developed a curriculum for our music program.  It is was easy to follow for our staff and delivered terrific results.  If you want to add music or enhance your music program at your camp, Adam and Path to Rhythm are the people to talk to!"
-Steven Bernstein, Director, Camp North Star

"Adam- We can't thank you enough for such a wonderful program. You clearly have a passion for what you are doing and our kids definitely picked up on that passion! It was so refreshing to see them experience 'real' music and drumming in such raw, live state. Thank you again for bringing your talent, energy and creativity to Camp Wayne!"
-Adena Brown, Director, Camp Wayne for Girls

"I would like to send a big thanks and a huge hug to Adam. The Path to Rhythm experience at Liberty Lake Day camp was awesome. To see so many of our campers (young and old) embrace drumming, music, and the idea of creating something together was great! Adam's enthusiasm and love for drumming transferred to all of our campers and the lucky staff that had the chance to participate. This awesome experience culminated in an explosion of energy and music at Camp-a-Palooza and made the festival not only interactive, but memorable for all who watched Path to Rhythm in action! Thanks so much to Adam for sharing his time and talent with all of us at Liberty Lake!"
-Brandi Carnivale, Program Director, Liberty Lake Day Camp

"Thank you Path To Rhythm, everyone really enjoyed the event! Our staff and directors were especially impressed with how well you managed all of the groups and kept our older campers engaged in the program.

-Adam Weinstein, Director, Berkshire Hills Eisenberg Camp
Frequently Asked Questions:
What size groups do you work with?
We work with groups of  25-40 participants per session. The benefit of working with this sized group is that campers receive individual attention during a program, and therefore the experience is memorable for each participant. We are able to accommodate smaller or larger sized groups depending on your camp's needs and the way that you chose to schedule your groups and divisions of campers.
How long is a  program, what is the duration?
Most sessions are 45-50 minutes. From our experience, this tends to be the the most effective length of time for scheduling purposes. Many options are available for program durations. We want to collaborate with you to provide the best program for your needs.
What do you require? How much space is needed?
We require a space large enough to accommodate all participants, and chairs for each participant.  An indoor space is most ideal. We love to takeover and transform the camp rec hall into a room full of rhythm and excitement.
Path To Rhythm will unite your campers and create camp spirit to help make 2018 the best summer ever.
Contact Us Now!
Adam Issadore
phone: 917-596-6542
email: Adam [at] PathToRhythm [dot] com
twitter: @pathtorhythm
Set up your free assessment phone call using our online scheduler.
We Are Honored to Work With the Most Respected Camps in the Industry. Our Clients include: