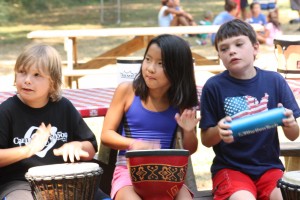 From August 16th-20th, I had the honor of being an Artist in Residence at Liberty Lake Day Camp in Monroe County, NJ. I  worked with all age groups of campers, from ages 4 through 15, as part of the diverse elective program offered by Liberty Lake. I introduced campers to hand drumming and group rhythm making. Each day we met at a beautiful location next to the lake, and got to experience the connection and sense of community that happens through drumming together. Each day the campers practiced a group drumming piece and the week culminated with the campers performing at Camp-A-Palooza. (click here to read more about Camp-A-Palooza)
Check out a blurb written about Path To Rhythm  in the Liberty Lake News (created by campers in the newspaper elective).
Liberty Lake is a special place, and I am grateful that I had the opportunity to meet and work with some great people who truly love what they do. To name just a few, Brandi Carnivale, Andy Pritikin, Dave Eural, Jason Samuel, Chris Peszka, Ray, Miss D…(and the list goes on and on…) Thanks LLDC!